1 - مقدار نیم گرم از ماده تر گیاهی را در هاون چینی ریخته، سپس با استفاده از نیتروژن مایع آن را خرد کرده و به خوبی له نمایید.
2- ۲۰ میلی لیتر استن 80٪ به نمونه اضافه، سپس در دستگاه سانتریفیوژ با سرعت6000 دور در دقیقه به ­مدت 10 دقیقه قرار دهید. عصاره جدا شده فوقانی حاصل از سانتریفیوژ را به بالن شیشه­ای منتقل کنید.
3- مقداری از نمونه داخل بالن را در کووت اسپکتروفتومتر ریخته و سپس به طور جداگانه در طول موج های 663 نانومتر برای کلروفیل a ، و ۶۴۵ نانومتر برای کلروفیل b و 470 برای کارتنوئیدها توسط اسپکتروفتومتر مقدار جذب را قرائت نمایید.
4- در نهایت با استفاده از فرمول­های زیر میزان کلروفیل a ، b و کاروتنوئیدها بر حسب میلی گرم بر گرم وزن تر نمونه به­ دست می آید.
Chlorophyll a = (19.3 * A663 - 0.86 * A645) V/100W
Chlorophyll b = (19.3 * A645 - 3.6 * A663) V/100W
Carotenoides = 100(A470) - 3.27(mg chl. a) - 104(mg chl. b)/227
V= حجم محلول صاف شده (محلول فوقانی حاصل از سانتریفیوژ)
A= جذب نور در طول موج­های 663، 645 و 470 نانومتر
W= وزن تر نمونه بر حسب گرم
منابع:
حسیبی، پیمان. 1386. بررسی فیزیولوژیکی اثر تنش سرما در مرحله گیاهچه ای ژنوتیپ های مختلف برنج. رساله دکتری تخصصی. دانشگاه شهید چمران اهواز. 145 صفحه.
Arnon, A. N. 1967. Method of extraction of chlorophyll in the plants. Agronomy Journal, 23:112-121.
مقایسه کلروفیل با هموگلوبین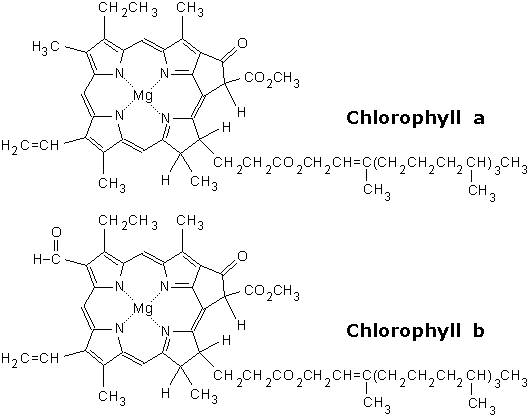 نوع مطلب :
برچسب ها :
لینک های مرتبط :